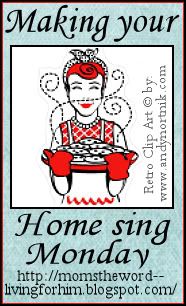 Today is the first day of school! I love the fresh start the first day of school offers: new clothes, new
book bag
, new school supplies and a fresh approach for the day's routine. No sleeping late, but up early and moving ahead with purpose.
Of course today started well because we were so prepared! I got up first, got myself prepared for the day with a quiet time, coffee (of course), exercise and preparing for the day ahead. I payed close attention to the clock and stayed busy getting things done - lunch packed, supplies ready to go, supper planned to prepare for the day.
It was a reminder to me that my morning routine sets the tone for the family's day. If I wake up late and then try to rush everyone to where they need to be, the day will not end up good. If I purposefully plan and use my time wisely so that I am not rushed, but relaxed and encouraging, it will be a blessing for everyone for the day.
Now, the newness of the school routine will wear off quickly this week, but I plan to keep the lessons learned on how my morning routine and outlook effects those around me and keep my home singing!
A
merry
heart
makes a cheerful countenance
...Proverbs 15:13