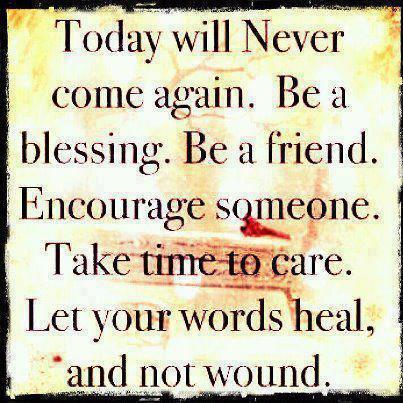 Have you ever heard some really bad news? A friend going through a devastating situation, hearing of an illness or death, loss, grief or sadness. Often our first response may be 'you are in our prayers' or 'I'm praying for you'. These words may be simple but can be used in ways that carry very different meanings.
Offers of prayer may often be the only thing to say when situations are devastating. But, when followed up by the promise of prayer, the most powerful source of relief is sought after. It comes down to the action part...do we simply say we pray or do we take it to the Lord in prayer.
Similar to prayer, our words can be a blessing or a distraction to our Christian walk. Words of blessing and encouragement without actions that match are not very effective. Purposefully using our words can bring great blessing.
The Bible has a lot to say about the ways we should use our words.
To ENCOURAGE – "Do not let any unwholesome talk come out of your mouths, but only what is helpful for building others up according to their needs, that it may benefit those who listen." (Ephesians 4:29)
To WORSHIP – "Bless the Lord, O my soul, and all that is within me, bless his holy name! Bless the Lord, O my soul, and forget not all his benefits, who forgives all your iniquity, who heals all your diseases, who redeems your life from the pit, who crowns you with steadfast love and mercy, who satisfies you with good so that your youth is renewed like the eagle's." (Psalm 103:1-5)
"May my lips overflow with praise, for you teach me your decrees. May my tongue sing of your word, for all your commands are righteous." (Psalm 119:171-172)
To TEACH – "She speaks with wisdom, and faithful instruction is on her tongue." (Proverbs 31:26)
To PROTECT – "Those who guard their mouths and their tongues keep themselves from calamity." (Proverbs 21:23)
To CONNECT – "Let your conversation be always full of grace, seasoned with salt, so that you may know how to answer everyone." (Colossians 4:6)
To CALM – "Without wood a fire goes out; without a gossip a quarrel dies down." (Proverbs 26:20)
I am challenged and changed by the love of Christ. My words should reflect that.
Scripture points us to speak in ways that honor Christ, reflect His grace, echo His love, build others up and make much of Him. Paul encouraged the believers in Ephesus to, "…walk in a manner worthy of the calling to which you have been called." (Ephesians 4:1) Today let's determine to TALK in a way worthy of our calling.
A daily prayer is the tool to equip and help us. I love this one:

Dear Lord,
Please help me choose my words wisely today. Instruct my tongue.
Lead me to build others up and to worship You continually.
Keep me from causing harm to others.
In Jesus's Name I pray, Amen.