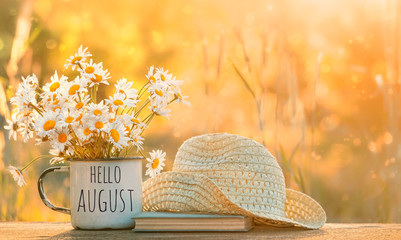 Welcome to August! It seems like this year since March things have been in a constant state of chaos. So many things in our world and lives are changing daily, there in no consistency and we are forced to try to stay abreast in the midst of constant change. Fear and apprehension always seem to be lurking behind ready to pounce. We question - 'when will things get back to normal?', or 'what will normal even look like?'. We may feel simply stuck, overwhelmed at the problems we see around us and not sure how to go about being productive.
So let's talk about the weather a minute. Summer in Florida can be brutal. The heat and humidity are oppressive. They zap the energy from you to where even the simpliest of tasks are put off if they require being outside. One of the things I love about August is that it gives a glimpse of hope that fall will be coming. In our area, there are at least two solid months left of heat, but we are turning the corner and if we look waaayy ahead, can see, taste and smell pumpkins, candles and cozy gatherings.
My Scripture reading this morning was from the book of Jeremiah. I am slowy making my way through reading the Bible, taking time to read and grasp the context and meaning, especially in the Old Testament. There is a familiar verse I love in Jeremiah chapter 17 but reading it in context opens up a whole new perspective.
"Blessed is the man who trusts in the Lord,
And whose hope is the Lord.
For he shall be like a tree planted by the waters,
Which spreads out its roots by the river,
And will not fear when heat comes;
But its leaf will be green,
And will not be anxious in the year of drought,
Nor will cease from yielding fruit.
Jeremiah 17:7-8
These beautiful verses follow verses which share the consequences of following anything other than the true God. Here is a short commentary...
He who puts confidence in man, shall be like the heath in a desert, a naked tree, a sorry shrub, the product of barren ground, useless and worthless. Those who trust to their own righteousness and strength, and think they can do without Christ, make flesh their arm, and their souls cannot prosper in graces or comforts. Those who make God their Hope, shall flourish like a tree always green, whose leaf does not wither. They shall be fixed in peace and satisfaction of mind; they shall not be anxious in a year of drought. Those who make God their Hope, have enough in him to make up the want of all creature-comforts. They shall not cease from yielding fruit in holiness and good works.
As we trust in God, even in the midst of times that feel like that oppressive heat that encompasses us, we don't have to feel anxious, but we can flourish. Our roots - focusing on Christ and putting our hope in Him allows us to be productive, and allowing us to be conduits of hope, grace and love. The season we are in may be hard, but we can draw from the never ending well of God's goodness and sink our heart in Him to find help and hope.