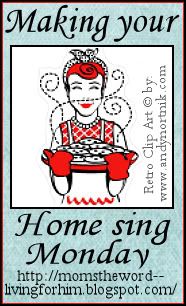 "Making Your Home Sing"
is a collection of ideas, attitudes, actions or motivation to inspire and learn from others ways to make the home run efficiently with a dash of love, creativity and fun.
Being the mom many times means lots of control over many things in the home. That is
ok
, it takes someone in charge to manage the home so that it runs smoothly. I rather enjoy having this area under my control and enjoy keeping my bunch organized and scheduled. I like control over the meals, shopping, activities and responsibilities of the home. And since I have been doing it for so long, it has become almost automatic. Meaning...I can easily turn into a control freak!!!
As a parent, one of the goals is to train the dependent child to become an independent, responsible, self-supporting, good decision making adult. This does not occur by doing all of their planning and making their decisions for them! They must learn through trial and error what works and what doesn't work.
My area this week to "Make My Home Sing", is to give more freedom! Not a let loose and whatever goes type, but freedom to make choices that I have usually made for them. Tonight, my boys have the opportunity to plan a family night. They picked the menu for dinner and the activity - a movie, no doubt an action or adventure type! They are responsible for renting the movie - of course with family friendly ratings!
Along with working on relaxing my control grip, I am working on aiming higher in my expectations. This does not mean setting unrealistic goals before my family, but encouraging them to be all that they can be. If I set my sights on a higher level for them and encourage them on that path, they can reach that goal and succeed. If I keep my sights low and expect a minimal amount, that is also what I will get. Vision and purpose are so important. Encouragement and freedom to soar can bring dreams into reality.
Remember above all, with God's power working in our lives, homes and family, He can do more through us than we can ever imagine:
Ephesians 3:20 "Now to Him who is able to do exceedingly abundantly above all that we ask or think, according to the power that works in us..."
May God's blessing rest on your home this week and may you "make your home sing"!