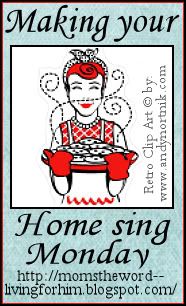 Making your home sing is more about "being" than "doing". Most all wives and mothers "do" the daily tasks that needs to be done. Making your home sing takes a little more planning and effort. It also takes some soul searching! At my home, I tend to be a busy bee. Buzzing around always doing the things that need to be done. As you know, there is always something to be done! I have no problem "doing" the tasks, but orchestrating a song for my home, requires me to dig a little deeper.
Through the years the Lord has been trying to teach me how important the inward attitude is as well as the outward action. When I realize the rich blessings my husband, children and home are and that God has divinely called me to this specific service to Him, it turns into a joy to love and serve my family.
I am currently reading
"The Power of a Positive Mom"
and it is speaking loud and clear to my heart! A positive mom is a genuine jewel to her family. Through her positive attitude, actions, smiles and words she can guide her family to unlock their full potential.
A mom's mood, countenance and attitude greatly affect the home and family. We have all heard that mom sets the emotional thermostat of the home! Of course there will be "down days" every now and again when we just aren't up to par, but moms should be encouraged to be "predictably happy". This sets the tone for the day for everyone. When the family has to await mom's mood for the day, it can cause much stress and tension. If the family knows mom will greet them with a smile and happy heart, this will bring comfort and assurance that things are well and prepare them for a great day. An encouraging word as they get off for their day can be the extra push they need to strive to be their best.
My goals this week are to relax and "be" instead of "do". Now, I'm not planning to hit the couch all week and do nothing! But among the chores and tasks I want to be on the lookout for opportunities to offer a smile, kind word or loving touch. I don't want to be so set on doing a task that I miss the chance to enjoy the special moments. Instead of being rushed and panicked, I want to set the tone for calm, organized and peaceful transitions.
Making my home sing depends on the song in my own heart. May it be a joyful one that splashes and soaks each one!