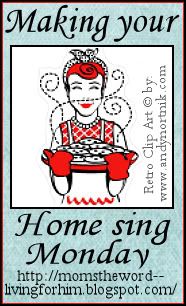 Making Your Home Sing Monday is designed for ladies to share what plan they will put into action for their home this week to make them run productively, smoothly and to "sing" with joy.
I recently looked around my home and realized it seems like I am
running
out of space. In some ways this is a great thing, my freezer is full, my pantry is full and my bathroom luxury basket is full! But looking deeper, there are some things that may go to waste which is not wise home management. There are lots of half eaten boxes of cereal in the pantry, half used bottles of scented lotions, half-burned candles laying around and food stuffed in the back of the freezer "just in case" it may be used. But instead of using these up first, I tend to go out and buy newer variations.
Now I consider myself a bargain shopper. Coupons, yard sales, secondhand stores and a keen eye for bargains keeps spending down. But on the down side, I cannot resist a bargain! My pantry is overflowing with buy one get one free cereals. In my bathroom basket, there are tons of "bargains" - scented lotions, bath gels, powders, beads etc.! We're not even going to touch my candle addiction today!
So my purpose for this week is to use what is at home FIRST! Planning meals with what is in the pantry and freezer first before purchasing new items. Asking the question "Do I have anything at home I could use?" before making a purchase is a smart way to keep purchases down. Training myself to think hard before spending will help curb impulse buying.