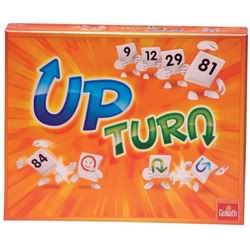 Recently the opportunity arose to review a family game that dealt with numbers. Since my 8 year old son loves games and also loves math, I jumped at this chance.
Upturn
is a product of
Timberdoodle

Company
which provides quality educational games and
homeschool
curriculum.
Upturn
is a game that is easy to explain, easy to play and an exciting combination of numerical
strategy
and chance
designed
for
children
ages 6 and up. This game retails for $25.00 and would make a fantastic and quality gift as we approach the Christmas season. A few days after receiving a copy of
Upturn,
a catalog came in the mail from
Timberdoodle
and is jam packed with educational supplies ranging from
curriculum
, books, games and toys which provide fun, challenge and educational value.
Our game arrived promptly in the mail and as we opened the package it became evident that this was a quality product. The outer box is sturdy and the contents include plastic number racks to hold the number tiles and a drawstring bag to hold the thick and sturdy number tiles. I especially like the
simplicity
to keep together the contents since many of our board games can easily become scattered!
As we began playing, I was concerned about a lack of challenge since the object of the game is to discard your number tiles first. You discard your tiles by going up or down numerically from a tile placed in the middle of the playing area.
We had to keep the directions handy as the tiles include directions of turn for play along with a few skip your turn tiles and a "joker" or free choice tile. This game provided a much bigger challenge than expected. As the players would go along discarding tiles in one direction, the opponent's numbers would often thwart your plan as you also had to accommodate their numbers in each numerical direction. Of course there was the unexpected "skip your turn" and then perhaps a sudden change of numerical direction - higher or lower.
This game provides
opportunity
to enhance
mathematical
learning through number recognition, critical thinking skills, sequencing and strategic planning. My family enjoyed this game and is looking forward to many more games of Upturn!
(Disclosure: We were provided with this product, free of charge, by

Timberdoodle

, in association with

MamaBuzz

.)