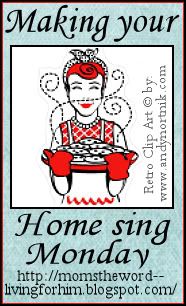 Although I think my home is kept neat and tidy, it is a struggle to keep up with all of the home maintenance tasks. It is beyond my scope of homemaking to keep up with the over and above tasks such as dusting the blinds, keeping the top of the refrigerator wiped down, treating the drains etc. Not to underestimate the importance of these tasks, it's just that I don't think of them on a consistent basis.

I recently came across a great site: Home Wizard Personal Assistant which is a place to make it easier to manage your home. There is a wealth of information including some of these topics:


Recommended Schedules
Free Personalized Reminders


Maintenance

Library
Energy Savings Tips
Safety
My favorite is the recommended schedules where you simply check the various features of your home and it pulls up a recommended monthly maintenance checklist for you to do to keep your home running smoothly and efficiently. Since lists help keep me focused and productive, I"m looking forward to making my home sing by doing a little better with home
maintenance
!