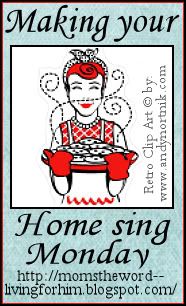 This weekend our area was hit with some unusually cold weather. I know....it was cold everywhere, but here in the deep south, we are not used to it! But one of the blessings of cold weather is getting to use our fireplace. We kept a fire going most of the weekend, making the home warm and cozy.

My husband is the main fire tender, but he had to work this weekend and left me in charge - with instructions of course! Apparently I tend to stack the wood close together and tight. I was raised in the city and some of these lessons come slow for me! My fires seem to fizzle out pretty quick. He informed me that the wood needs air to circulate around it - to fan the flame so that it will blaze. The wood needs to be loose to allow the air to get to it. Guess what??? It worked!

Sometimes my attitude towards my home needs a breath of fresh air! We all love our homes and desire to make them a place of refuge and peace with a loving atmosphere. But sometimes I get smothered with all the things to do. There is always a meal to cook, dishes to wash, floors to sweep, and that doesn't even touch the laundry monster!

A quick and easy burst of fresh air is to find some simple inspiration. Anything that helps refresh or fan the home fires! Something new whether testing out a new idea for cooking or decorating can be the burst of air to spark the flame. Here are a few things I've recently done to help keep my home fires burning:

Found a few inexpensive decorations at a secondhand store for my home.
Plan to try a few new soups from this cookbook.
Lighting my candles in the evening to give a cozy feeling to the home.
Putting blankets around the couches to snuggle in on cold evenings.
Bought some new seasonings to add some pizazz to meals.
Used my bread maker to bake a loaf of bread.
Practiced staying home more and being more relaxed around my family.
These are just a few inexpensive ideas to bring a song to the home. There are creative ideas that abound in books, magazines and online. Tap into these valuable resources and find what works to bring a spark of life back into your home. Keeping some fresh air circulating in our hearts is a sure way to make our homes sing!

"And let us consider one another in order to
stir
up love and good works," Hebrews 10:24