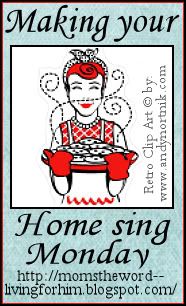 Over the last few weeks, my middle son has turned into a full fledged welcoming committee for our home. He loves social action and guests and is having a great time having company over. It started out with having one boy over, and he was hooked! Since then we've had opportunity to find a group of teenage boys gathered around in the yard or in front of the television!

Now I love company and opening our home, but usually fear strikes as I worry and stress over if the house is clean enough, or what will I feed them and what will we do to entertain them. My son assured me that they did not care what the house looks like and any food will do!

If I am prepared for company, that is great, but recently I've received those calls, "Mom, can a few guys come over and play basketball?", while I'm out of the house and it is a quick answer - "OK, I'll be home soon". Those are the times anxiety hits and I feel unprepared. But, a little strategic planning can help erase those fears and fill my heart and home with a confidence to open up.

There is a blessing in opening our home and it is biblical to offer hospitality. I love it that these teenagers can come and enjoy a place to play and hang out. It is a great blessing to know my son's friends and to show them kindness and love through simple actions such as offering a snack, a drink or some small talk showing interest in their lives.

I came across an article on how to prepare for unexpected company: These don't necessarily deal with teenagers, as they are probably the easiest house guests to entertain, but for those like me who have this crazy need for order in the home before company comes, they are some handy tips.
"Clear looks clean."
Guests only notice "clear", they don't care if every corner is spotless. A clear, neat home is pleasing to the eyes and welcoming to a guest.
Stash the stash:
Keep an eye on clutter prone areas. Utilize drawers, baskets, organizers etc. to keep clutter from being an eyesore.
Be strategic:
Focus on keeping an area where guests may occupy clean. Keep a "clean path" through the home. Keep entry way and living area tidy, keep bathroom counters and mirrors wiped down so you'll always be ready for guests.
Focus on the center:
Clean the center of any room at eye level which is where eyes naturally gravitate. Using wipes to keep countertops and dull surfaces shining makes the house sparkle.
Use the power of scent:
Spray air fresheners all through the house, spraying fabric refresher on pillows and fabrics are a quick way to freshen up a room. Chopping lemons in the garbage disposal and simmering apples, oranges with cinnamon or cloves on the stove creates a natural and comforting atmosphere.
Bring in the light:
Open the curtains and lighting candles bring in natural light which makes everything look cleaner and brighter.
Plan for the future:
Teach kids to put toys back after using them, keeping a handle on junk mail and paperwork by dealing with them immediately before they have a chance to collect. Keep a basket with cleaners and rags handy for daily spruce ups. Wipe the tub and sinks often after use. Have two doormats, one outside and one inside to keep floors cleaner. Have kids remove their shoes before entering. Making little changes like these a habit will help keep a home tidy and prepared for company.
Prepare yourself:
The most important factor in making a guest feel at home is your attitude. By greeting your guest with a smile and genuine welcome, they will enjoy being a part of your home.
So, my plan for this week is to have an open home and open heart for any who may stop by! May my home sing a song of welcome!