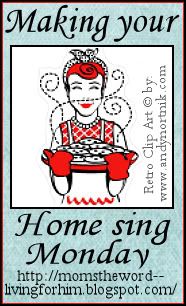 This week my home will be humming along briskly with a full week planned. There are taxes to finish, soccer practices, a doctor appointment and hair cuts in addition to the regular homework and housework routine. This is also a busy week for my hard working husband who will be working some long days. Since I thrive on organization, weeks like this sharpen and challenge my homemaking skills. Keeping everyone scheduled and on task is a challenge I enjoy. But the danger of plowing through the week is sometimes missing opportunities to stop and show extra special attention to details.
This month I am challenging myself to memorize a few verses of Scripture. The one I am beginning with is Colossians 1:10 "that you may walk worthy of the Lord, fully pleasing Him, being fruitful in every good work and increasing in the knowledge of God;" It was the part "being fruitful in every good work" that stirred my heart.
Does anyone else find it easy to overlook "little things" around the house? Not being lazy, but tasks arise that sometimes I just don't want to deal with right then. Things like going through the mail, sorting through magazines or toys that always seem to be around, or perhaps a pile of unwanted clothes that need to be donated. Although these tasks start small, they develop into piles if left neglected.
These "little things" can crop up other places too. Maybe with the husband who although a meal is cooked and prepared, he really needs a quick hug or smile. The child who asks a question while I'm checking my email, needs a thorough answer, not just "uh huh". With teenagers flying through the house, they sometimes need more than a "bye, be careful". Paying special attention to little details speaks love loudly in the home.
So this week, I want to make my home sing by paying attention to the little things and giving them the attention they deserve and make these moments fruitful! May God bless us all with a bountiful eye to see and share and be fruitful in every good work!