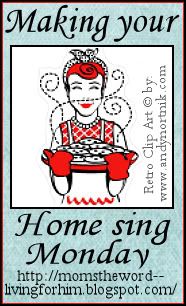 This weekend wrapped up the little league soccer season our youngest son participated in. It was a great experience with lots of fun for the kids and a time of friendship and fellowship among the parents. However, being gone three or four nights a week can reek havoc on a home. I discovred that instead of singing a happy tune, my home is simply croaking along!!
This weekend while searching for some school supplies it became evident that my home although clean on the surface, was in pitiful shape as far as oranization goes. There is a stockpile of items in various places, excess stuff, so that we don't know what we have and continue to get more of the same items until a vicious cycle is threatening to bury our home with clutter and inefficiency.
Yesterday as I looked around in despair at the boys closets, linen closet, school supply chest and other problem areas I thought...how will this ever get under control? But in a few short hours I was amazed how quickly a couple of key things got done:

While having a nice phone conversation with a friend, I cleaned out the refrigerator.
A dresser was cleared out and organized by chatting and reminiscing about old clothes with my youngest son.
While someone came over to do some work on the computer, the office supply cabinet got cleared out.
Instead of despairing and being overwhelmed by the size of these tasks, little steps in the right direction got much accomplished.
So, the plan for this week is to tackle some of these tough jobs, one at a time. A closet here, a cuboard there, inventory what we have, get rid of what we don't need until my home again sings the beautiful song of organization.