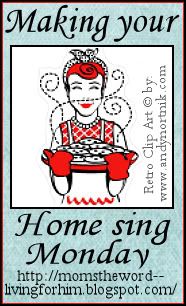 A new week with new plans and goals gets me motivated! Last night I read over our weekly calendar and noted the several things going on and was planning accordingly.
But as most moms know, the child that is quieter than usual, takes an unexpected nap and has that rosy look in his face can halt the plans of a household! He has come down with something and needs attention. In our home, rest, staying in pajamas all day and some 7-up are instumental in helping one to feel better.
As life goes on around us, it is full of unexpected changes. As the keeper of the home, during these times it takes considerabale amount of effort to maintain the focus of the home. But during times of change and upheaval, the peace, familiarity and comfort of a home can bring quietness to the soul. Whether those in our family are sick, facing challenges, struggles or just need something familiar, our homes can be that steadfast source of peace, rest and strength.
Now as comfy and cozy the familiarity of home is, creating that atmosphere is not that easy. It takes diligence to keep on and keep the foucs through distractions and changes. But it is the steadfast desire to commit and love the home that bring the warm feeling of home. Along with the day in and day out maintaining of the home, being adaptable and ready for the unexpected can make the home sing.
Therefore, my beloved brethren, be steadfast, immovable, always abounding in the work of the Lord, knowing that your labor is not in vain in the Lord. I Corinthians 15:58