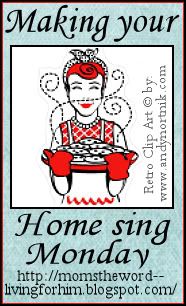 Spring is in the air!! As we enter March, there is promise of new life, warmer weather and the beauty of spring. Many times in the home we prepare to "spring clean" where we get rid of things that hinder and hamper the efficiency of our home. Spring cleaning takes some time, effort and plain ole hard work! But the end result is worth it. A clutter free, organized, clean home that shines from the inside out!
Spring also means that Easter time is approaching. Easter is early this year - April 4 and the season of Lent is already in progress. Being born, raised and grounded as a Southern Baptist, Lent is not a practice that we observe. In fact, it was only in the last few years that I learned about the practice of Lent and what it represents. Apparently, this has also escaped my children's knowledge. This weekend while riding in the car, I began reading them some material about Lent and it's beginnings. I started with the question "Do you know what Lent is?". The answer was "The stuff that you find in your pockets?" Oh my....Oh my...we have some work to do!
Lent is the 40 days, not counting Sundays, before Easter. Lent is traditionally a time of fasting and repentance in preparation for Easter. There is no biblical command to practice Lent, but as we approach Easter this time can be used spiritually to examine our hearts and lives and redirect our focus to serving the Lord. You may can say it is "spring cleaning of the heart". A time to ask the Lord to help us look deep into our heart and clean out old garments of forgiveness or jealousy which don't fit the Christian who is now created in holiness. To dust off and polish our desire to dig into God's Word and hear and receive from it. To dig through the clutter that fills our mind and purpose to seek the Lord for His plan for our lives. To throw out any trash that collects, which is anything that hinders our walk with the Lord. A time for renewal and freshness that will equip us to live a godly life which begins in the heart, the home and through our life.
My plan for my home this week is to share some devotions which lead up to Easter. I have found a few resources and although "late for Lent", I am excited to freshen and liven up the spiritual atmosphere of my home.
May we be encouraged to spring clean our hearts and homes this Spring. The end result will be fantastic!