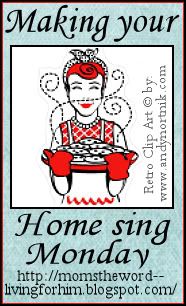 After a wonderful weekend with just the right balance of fun, rest and work, Monday has arrived with a powerful force all it's own!
It is evident that my home will need some fine tuning this week in the attitude department. The last few days the attitude of two teenage boys quarreling over one pick up truck and a hundred places that each one had to go blasted into overdrive. Just when you think maturity and responsibility are taking root, (and they are!), it doesn't take much of having to give up something for someone else to bring up some selfishness and the "ME" factor screams for attention. "That is MY gas you are using...", "That is MY truck you are driving..." We also have one little guy who has watched a little too much tv and picking up the attitude of a tv model which is not welcome in our home. Then there is the husband who pulled something in his shoulder, barely slept all night, but moving very slowly, went to work his 12 hour shift today.
On Monday's, I begin a weekly devotion from "The Power of A Positive Mom". Today's lesson was on positive speech. Perfectly fitting! Here are the verses that were in the devotion:
"A gentle answer turns away wrath, but harsh words stir up anger.
The wise person makes learning a joy, fools spout only foolishness.
The Lord is watching everywhere, keeping His eye on both the evil and the good.
Gentle words bring life and health, a deceitful tongue crushes the spirit.
A person's words can be life-giving water, words of true wisdom are as refreshing as a bubbling brook...
Words satisfy the soul as food satisfies the stomach; the right words on a person's lips bring satisfaction."
Proverbs 15:1-4, 18:4,20
In the home when things get a little wacky, someone needs to step in and be the one to soothe, guide and provide the needed touch of sensitivity, compassion and love. Sometimes it is more than that the cooking and cleaning that need attention. Now of course I have my own issues and demands for attention that want to scream to be noticed, but every mom has learned (or soon will!), we need to sometimes put the needs of others before ourselves. Easy? NO!. But through the reminders of God's Word, His Spirit living in us and guiding us and His love flowing through us, we can bring the things that are needed to make our homes and families sing.
Love suffers long and is kind; love does not envy; love does not parade itself, is not puffed up; does not behave rudely, does not seek its own, is not provoked, thinks no evil; does not rejoice in iniquity, but rejoices in the truth; bears all things, believes all things, hopes all things, endures all things. Love never fails. I Corinthians 13:4-8