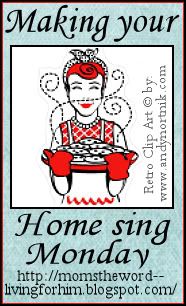 One of the highlights of Mondays for me is sharing on here ideas to "Make Your Home Sing". For me it is always exciting to embrace a new week filled with new plans and this discussion helps get me motivated to put those plans into action and remember how important the home is.
This morning
Moms the Word
shared about
"Permission To Fail"
. Probably every mother has been where purposes and plans start off strong, but end up losing luster. By the end of the week, the goals for an organized, happy, fun-filled, clean home somehow end up with a messy house, laundry overload, tired, grumpy parents and some take out dinner. The realization that we are not Superwoman has hit long ago. We are not perfect and we don't have perfect homes.
But we are created in the image of God and He has given us the exact sphere of ministry He has chosen for us. He has gifted us uniquely and put talents and interests in us to make us fruitful and able to flourish. He has equipped us with everything we need.
A verse I read this morning fit beautifully:
Psalms 37:4-5 "Delight yourself also in the LORD, and He shall give you the desires of your heart. Commit your way to the LORD, Trust also in Him, and He shall bring it to pass."
So my plan this week for my home is to delight myself in the Lord, be mindful to thank Him for my home, the place He would have me serve Him and trust Him to fulfill what I need to in my life and home.