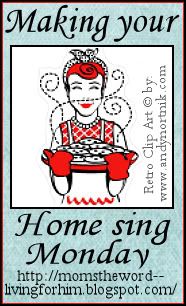 When we talk about our homes, don't you love to use those terms to describe your home like:"a place of refuge", "a sanctuary", "an oasis of refreshment", or "there's no place like home"? I like to talk about my home like that too! But often times my home is filled with activity, teenagers running in and out, sending my husband off to work, getting kids to sports practice and juggling the never ending pile of laundry. It would appear that chaos rules instead of a peaceful oasis of love and grace!
But this weekend, something clicked. Two of our boys were involved in the local county fair showing animals. This required us to be gone from home ALOT! Even though our family is very active, we make it a point to try to stay home as much as possible in the evenings, since we are gone all day. But this week from Wednesday through Saturday, we were gone all day and all evening! Parents were tired, kids were tired, housework was non existent, food was eaten on the run, laundry was piling up and we were getting grouchy!
When we would get home late at night with only enough energy to shower and go to bed, our home never felt so good. It all clicked to me, that home is truly where we recharge, refresh and renew. It was a place where we could shut out the world, lock ourselves in our own little peaceful paradise (for a little while), and get revived to continue on for the next set of tasks. While we were at home, there was no rushing or panic but a time to just be ourselves. In the midst of our chaotic week, this was true refreshment to our souls.
Early Saturday morning as I did a few quick chores before heading out again, I did them a little more joyfully, knowing that my labor and effort were accomplishing something great. I was building a home. A place not just made up of clean laundry, clean dishes and vacuumed floors, but "our space" for my family to come and find refreshment, renewal and be revived to continue on. Building my home is pouring my energy and time to create for my family a place they will always hold in their heart. Is there any higher calling or privilege?
The wise woman builds her house... Proverbs 14:1