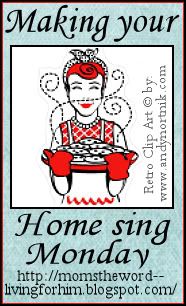 It takes hands to build a house, but only hearts can build a home.
Today will begin a new season and adventure for my home and family. We will be homeschooling my youngest son this year and I will become a stay at home mom (again) in another week. Our family strives on consistency and routine, so things like this change us and shake us up a bit, but we're looking forward to some good changes.
This will be the third time I've "come home" from an outside job. Each time I learn a little more and grow as a wife and mother. In earlier years, with much time on my hands, I used it unwisely, not paying attention to my home, but being involved and busy in things outside the home. The last time I came home to care for our youngest son. With two older boys and a baby, I was at home. but overwhelmed with the duties of the boys to make the most of the day. This time, I feel better equipped and ready to be the keeper of my home and embrace the challenge of schooling my son.
Some characteristics I"m striving for that will enhance my home are:
Dedication - being there for the family and to keep the home in great working order

Faithfulness - putting the needs of family and home first

Consistency - doing what needs to be done - all the time, the best way

Diligence - Doing each task to the best of my ability

Time Management - be alert to time stealers

Organization - keeping on top of clutter and being able to quickly find what I need
There is no higher calling than a wife, mother and keeper of the home. Working outside the home doesn't lesson the importance or impact of a mother's influence and I admire those who work outside the home. Even while working at a job, the heart can be in the home, making it a sanctuary for the family to come home to. I consider it a blessing to be able to come home again and look forward to this time being the best ever!