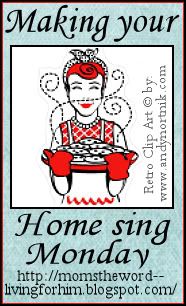 "Labor Day, the first Monday in September, is a creation of the labor movement and is dedicated to the social and economic achievements of American workers. It constitutes a yearly national tribute to the contributions workers have made to the strength, prosperity, and well-being of our country."
Today is Labor Day and my family is enjoying a day off with plans to make dinner on the grill and invite some family over for food, fun and fellowship.
Thinking about labor always brings to mind plain old hard work! Most women can relate to the endless tasks around the house as 'plain old hard work'. There is always something to be done and often times, not enough time to do it all.
But when we think of that labor as a labor of love, a way to bless, keep and manage our homes, the tasks become a bit more manageable. When we reflect on the high calling and responsibility to mold and shape our family's view of "home", that labor turns into a wonderful opportunity. Reminding ourselves that our attitude towards labor and towards keeping a home can either make our homes sing or make our homes groan. The work will always be there...no choice there, but the choice lies within our heart, do we acknowledge and accept this God given ministry to care for and provide a stable, peaceful environment for our family, or grumble about the work and make it not so pleasant for them to want to be there?
A huge benefit of running the home, is that we are in charge! Yeah! If we are good managers of the home, the work doesn't need to enslave us. A little bit each day, meal planning, keeping things picked up, 15 minute tidy-ups etc. are good maintenance helps. We can then use our energy to loving and spending time with our families.
May this Labor Day bring you rest, relaxation and a renewed attitude towards our homes this week. That will surely make our home sing!