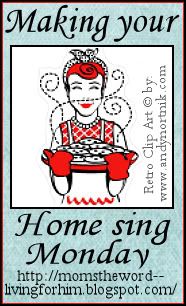 There's a soft place in my heart for things of nostalgia and the warmth of sweet memories they bring into ones life. Yesterday was a rare day when all of my family was present for Sunday lunch. Between shift work and two teenagers working, it is a treat to have everyone gathered around the table!
Sunday lunch wasn't one of those elaborate presentations of food. Turkey breast, dressing, green beans and bread were on the menu. Last night as I was preparing to brine the turkey, I undid the netting which was around it. BIG MISTAKE!! The turkey breast fell into many small pieces! Wondering what to do, I put all the pieces back into the net and brined it all night! Stove Top stuffing and canned green beans rounded out this meal of convenience. On a whim, I pulled out some of my mother's bowls to serve the food in. These bowls were used when I was a girl and they bring about nice memories of families eating together. They brought a touch of nostalgia and made an ordinary meal a little bit more special.
Thinking about the beauty of nostalgia, brought encouragement to make the most out of my daily life. As we go about through the day, little touches can bring joy and create lasting memories for our family and friends. By seeking to use what gifts we have and extending them to others, we can create warm memories and show love and care in tangible ways.
In our home, a few touches that can allure the senses and bring beauty can be:
light candles



use fabric softener in laundry




set the table using decorative bowls instead of just serving in the pots




decorate for the seasons




keep cozy blankets/pillows in the living room




bake something special - just because




play uplifting music in the home




think of things to be seen, felt, heard and tasted that enhance the flavor of HOME!
In our relationships, we can extend ourselves by using our gifts and talents to be a blessing to others.



Send a card




send a food gift




pick up a little special something at the store




pay a nice compliment




offer help in times of need




phone to let someone know they are on your mind




remember birthdays, anniversaries and special days




be thoughtful and considerate to the needs of others
By paying close attention to our what our hearts challenge us to do, we will give from the gifts and talents within us and be a blessing to those around us. As we go through our days, we're not just existing, we're creating nostalgia!