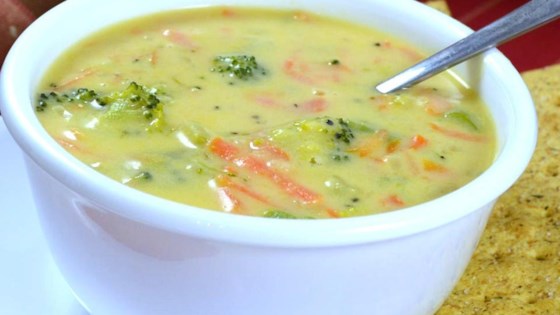 I thought I made good cream of broccoli soup, but recently came upon a recipe that was a copycat
Panera Bread Co. Broccoli Cheese Soup
. Since I had all the ingredients one Sunday night, decided to give it a try.
Oh my, this was the best broccoli soup ever! Sweet hubby and I had bowls and I was looking forward to taking some of the leftovers for lunch the following day.
On the stove was the pot of broccoli soup remains along with a pan of gravy left over from lunch. I asked our son to take the scraps out to the dogs, then walked away. (don't do that to a teenager!). When I walked back in, he was returning the EMPTY soup pot, he gave the soup leftovers to the dogs! Trying to make a motherly point, I asked..."There is a dish of leftover gravy and a pot of freshly made soup, which one looks like it should go to the dogs?" He answered typically of a teenage boy, 'both". One day surely he will appreciate a great pot of soup!

But just to hold on to this recipe, I"m sharing it!
Copycat Panera Broccoli Cheddar Cheese Soup
1 tablespoon butter
1/2 onion, chopped
1/4 cup melted butter
1/4 cup flour
2 cups milk
2 cups chicken stock
1 1/2 cups coarsely chopped broccoli florets
1 cup matchstick-cut carrots
1 stalk celery, thinly sliced
2 1/2 cups shredded sharp Cheddar cheese
salt and ground black pepper to taste
Melt 1 tablespoon butter in a skillet over medium-high heat. Saute onion in hot butter until translucent, about 5 minutes. Set aside.
Whisk 1/4 cup melted butter and flour together in a large saucepan over medium-low heat; cook until flour loses it's granular texture, adding 1 to 2 tablespoons of milk if necessary to keep the flour from burning, 3 to 4 minutes.
Gradually pour milk into flour mixture while whisking constantly. Stir chicken stock into milk mixture. Bring to a simmer; cook until flour taste is gone and mixture is thickened, about 20 minutes. Add broccoli, carrots, sauteed onion, and celery; simmer until vegetables are tender, about 20 minutes.
Stir Cheddar cheese into vegetable mixture until cheese melts. Season with salt and pepper to taste.