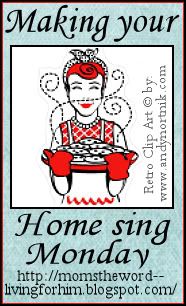 It is Spring Break this week which usually means a week of no school and days filled enjoying the gorgeous spring weather. It is a time of year I eagerly look forward to. But this year it seems that there are numerous things competing with the relaxation and rest of Spring Break. Things like sports practices for the boys - soccer, baseball, church softball, weight training - where someone different needs to be somewhere different each day. Throw in a couple meetings that need attendance, a writing deadline, a few days of work at my job during the busiest week of the month and then a children's activity that needs to be organized are ready by Saturday. How did this happen???
Now knowing that if I let myself, I could get frazzled, harried and turn into a whirlwind of activity and emotion, my goal for my home (and myself) this week is to keep a calm and steady pace. Since as the mom and woman of the home, my attitude and largely determines the pace of the home, I want to enjoy a peaceful week in the midst of the activities.
There may not be any deep, spring cleaning done this week, but some time outdoors is surely called for along with a thankful attitude for the energy, peace and strength that the Lord freely gives! Happy Spring!
"... In quietness and confidence shall be your strength...." Isaiah 30:15