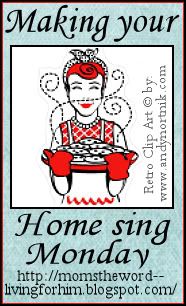 Home is somewhere that often we don't think hard about, but is more a place that is felt in our heart. We may take being home for granted, but when thinking of how to describe 'home', we instinctively know how it feels. It is also easy in the busyness of moms who keep the home to overlook some of the precious and vital things that go on in our homes.
Home has been described as a launching pad for the family. What is learned in the home, is what is projected when we leave home. Our attitudes, how we treat people, our work ethic, speech and actions that are practiced daily in the home are what others see in our daily walk. How we dress, how we talk, how we play etc. begins at home.
A powerful Bible verse that reminds me of how to act in my home is found in Psalms 101:2,3
I will behave wisely in a perfect way.
Oh, when will You come to me?
I will walk within my house with a perfect heart. NKJV
I will be careful to lead a blameless life— when will you come to me?
I will conduct the affairs of my house with a blameless heart. NIV
Now of course we are not perfect and surely fall short daily. But our aim, vision and goal should always be to seek God's ways and to aim high. If we aim at nothing, we will hit it every time! Our families and homes should be the reflection of a mom seeking to fulfil her highest calling which is a heart for the home.